Dem Jointz
Music Producer | Audio Engineer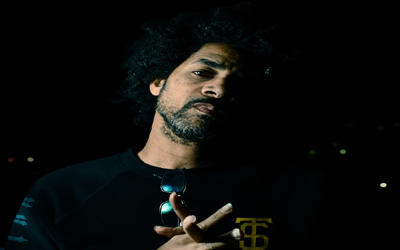 Project Details
Rock Star Entertainment
Music Producer | Audio Engineer
@DemJointz
Project Description
Dwayne Abernathy, Jr. (known by his stage name Dem Jointz) is a 3x GRAMMY Nominated American musician and music producer.
He has produced tracks for numerous artists including Brandy, Jordin Sparks, Rihanna and Christina Aguilera.
He also co-produced four tracks on Compton, the third and final studio album by Dr. Dre, as well as several tracks on Janet Jackson's 2015 #1 album Unbreakable.
Discography
Partial list of writer & producer credits
Year
Title
Album
Artist(s)
2017
"Facts"
All Things Work Together
Lecrae
"Cherry Bomb"
Cherry Bomb
NCT 127
2016
"Silicon Valley"
Malibu
Anderson .Paak
"Cloud 9"
EX'ACT
EXO
2015
"Unbreakable"
Unbreakable
Janet Jackson
"Burnitup!"
"Dammn Baby"
"Shoulda Known Better"
"2 B Loved"
"Don't U Wait No More"
The Red
Red Velvet
"Genocide"
Compton[5]
Dr. Dre & Kendrick Lamar
"Medicine Man"
Dr. Dre, Eminem, Candice Pillay and Anderson .Paak
"Deep Water"
Dr. Dre, Kendrick Lamar and Justus
"Satisfiction"
Dr. Dre, Snoop Dogg, Marsha Ambrosius and King Mez
"Yellow Canary"
dumblonde
Dumblonde
"Party 4 da Low"
The High EP
Candice Pillay
"Consistent"
Shoulda Been There Pt. 1
Sevyn Streeter
"My Jam"
TBD[6]
Bobby Brackins
"Right Here Right Now"
Right Here, Right Now[7]
Jordin Sparks, Dwayne Abernathy, and James Fauntleroy
"1000"
Jordin Sparks, James "J-Doe" Smith
"All In A Days Work"
DK3
Danity Kane
2014
"Phuq Da World"
Vuck You
Vina Vuna
"Friends & Lovers"
Friends & Lovers
Marsha Ambrosius
"Neva Been Scared"
Sing Pray Love, Vol. 1: Sing
Kelly Price
2013
"Call Me Crazy"
Call Me Crazy, But…
Sevyn Streeter, written by Amber Streeter, Taylor Parks
"Feel Like Party'n"
Chase Dreams
Kalin & Myles
2012
"Hottest Girl in the World"
Evolution[8]
JLS
"Dessert"
JLS
"All The Way"
JLS
"Gotta Try It"
JLS
"Put It Down"
Two Eleven[9]
Brandy, Chris Brown
"Let Me Go"
Brandy
"What You Need"
Brandy
"Lotus Intro"
Lotus[10]
Christina Aguilera, Candice Pillay, Alexander Grant
"Make the World Move"
Christina Aguilera, CeeLo Green
"Circles"
Christina Aguilera
"Shut Up"
Christina Aguilera
2011
"Cockiness (Love It)"
Talk That Talk[2]
Rihanna, Candice Pillay, Shondrae "Mr. Bangladesh" Crawford, Fenty