DJ Skee
International DJ | Host | Brand Ambassador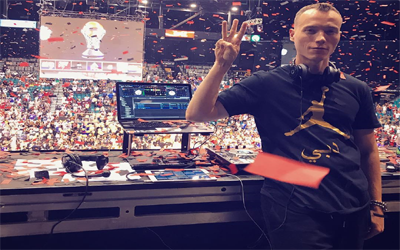 Project Details
Rock Star Entertainment
International DJ | Host | Brand Ambassador
@djskee
Project Description
Recognized as one of the most influential figures in todays entertainment business by both Forbes & Billboard magazine, DJ SKEE is carving a new definition for what a DJ is. With a thriving/blossoming career as an entertainer and multiple ventures under his umbrella, DJ SKEE is at the forefront of popular culture. In raw numbers, DJ SKEE has generated over one billion media impressions in under a decade, and has a network of over 500,000 social network followers.
In addition to headlining tours from South America to Asia as a performer, SKEE can be heard daily on some of the worlds biggest radio stations including KIIS FM in Los Angeles and Sirius XM Satellite radio. Not limiting himself to one genre or style of music, SKEE has collaborated and produced for artists ranging from Snoop Dogg to Chris Cornell to Michael Jackson and composed music for video games like HALO. As a DJ and producer, SKEE has won a slew of awards including DJ Of The Year. With uncanny skills to command any party and hold the energy at a 10, key events SKEE has DJ'd and hosted include the grand opening of the hundred million dollar mega club XS inside the Encore/Wynn Las Vegas, the GRAMMYs, Superbowl, NBA All-Star Weekend, Diddy's White Party, Nickelodeon Kids Choice Awards, and even his own branded car show and concert at the Los Angeles Convention Center.
On the screen, SKEE has built the single largest lifestyle channel in the world, SKEE.TV. With over 250 million YouTube views and growing, to distribution deals inside restaurants and on mobile phones worldwide, SKEE.TVserves its audience any and everywhere they look. On the production side, SKEE.TV's credits include no less than eleven number one charting music videos under SKEE's watch. SKEE is also frequently seen on broadcast television ranging from not only the biggest music based shows, but in marquee series' including "60 Minutes" on CBS and MTV's "Fantasy Factory."
Redefining what role a DJ plays, SKEE is looked to as a cultural icon for his influence outside of just music, ranging from fashion to technology and everything in between. Recognized as one of Billboard Magazine's "30 Most Influential Under 30 Years Old" in 2010 and an honorable mention in Forbes Magazines "30 Under 30" in 2011, the multi hybrid entrepreneur has been the driving force behind some of the biggest products in the market over the past decade ranging from the Daimler-Chrysler's brand relaunch in the mid 2000's to the more recent market changing Beats By Dre headphones introduction. He also owns a retail chain with its flagship store location in the Beverly Center.
Born in New York City and living in every corner of the country as a child, DJ SKEE started his broadcast career on the radio at the age of 16 in Minneapolis, MN. After a chance encounter with music industry veteran and then Loud/Sony Records CEO Steve Rifkind, SKEE graduated high school a year early to move to Los Angeles and work directly under Rifkind, eventually becoming an executive in the SRC umbrella and helping discover and break artists and products ranging from Akon to the T-Mobile Sidekick. Currently residing in Hollywood and building his company Skeematic to pioneer the future model of the music and entertainment industries with its SKEE.TV, SKEE 24/7 Radio, SKEE Music, and various other ventures, SKEE is on the path to become the king of entertainment for this generation.